Rocky Road was so successful because it was so easy. Chocolate barks fall into the same category. In fact, Rocky Road is just a variation of chocolate bark. This is something that was often on our "activity countdown calendar" because it doesn't take a lot of time to get great results. Here are some of our favorite combinations:
Tiger Butter
Melt 1/2 pound white chocolate (or almond bark) and stir in 1/4 cup peanut butter until smooth. Spread on a waxed-paper lined cookie sheet. Melt 1/2 cup chocolate chips and drizzle over, swirling just a bit with a table knife. Refrigerate until hardened and break into pieces to serve.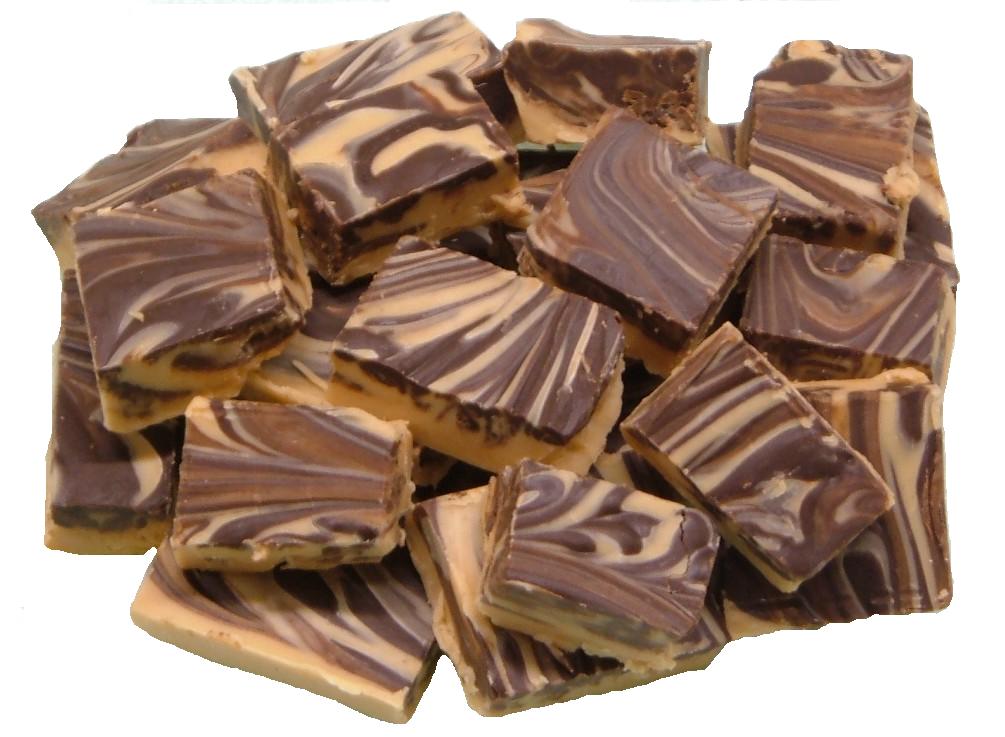 Cranberry-Kissed Chocolate Cookie Bark
Melt 8 squares semi-sweet baking chocolate and stir in 5 crumbled Oreo cookies. In another bowl, melt 6 squares white baking chocolate and stir in 5 additional crumbled Oreo cookies. Alternate dropping spoonfuls of the two mixtures onto a wax paper covered cookie sheet and marble slightly. Immediately sprinkle with 1/4 cup dried cranberries and press in lightly. Refrigerate about one hour or until firm and break into pieces.
Candy Cane Bark
Melt chocolate, chocolate chips or almond bark. Stir in crushed candy canes. Pour onto wax paper and let cool to harden. Experiment with different flavored (white or milk or dark) chocolate and either drizzle a contrasting color on top before it hardens, or make the chocolate two-layered.
Fruit and Nut Bark
Melt chocolate. Stir in chopped nuts and/or craisins or other dried fruit. Pour onto wax paper and let cool to harden. The combination possibilities are endless!
This combination: 6 ounces almond bark, 6 ounces chocolate chips, 3/4 cup Craisins, 3/4 cup sliced almonds
"Thin Mint Cookies"
Dip Ritz crackers in melted mint-flavored chocolate.
(Note: 1/12 pounds almond bark makes 3 dozen.)
"Butter Fingers"
Dip Cheeze-It crackers in melted chocolate.
(Note: 1/2 pound almond bark makes 8 dozen.)
Pretzel Rods
Dip the ends of long pretzels in melted chocolate and then roll in chopped nuts, sprinkles, crushed candy canes, etc. If desired, you can
dip the pretzel in caramel first
and when the caramel's hardened dip in the chocolate.
This was the Valentine's Day version, but it works for Christmas, too.
Rolo Turtles
Place an unwrapped Rolo on a mini pretzel. Bake at 350° got 3-5 minutes or until softened. Carefully press an M&M or pecan half on top of each Rolo and let cool.
This was the Halloween version, but it also works for Christmas too.