Works for Me Wednesday
72 Hour Emergency Kits
The other day I was reminded that hurricane season starts next week. And that reminded me of the experience our family had to be on the news a few years ago - our "15 seconds (not minutes) of fame!"
The church was promoting a preparedness fair, and our family was asked to share what we had done, mainly how we put our 72-hour kits together. It wasn't a stress-free opportunity, but it was a good one. And, as you can see, Brad and David had a great time hamming it up in front of the camera!
We made our first emergency kits 25 years ago when my mom sent us a list (which I'll post at the end). At first I just concentrated on the food items. As the years have gone by, we've added the other items. The containers have changed over the years as well. When we lived in earthquake country, we had a mini-kit in each car, along with the main ones at home. When there were eight of us at home, the supplies were kept in bins to be added to the car in case we needed to evacuate. Last year I finally gathered some old school back-packs so now they're even more portable.
It doesn't matter where you are now. Just do one little thing to improve your preparation. The peace of mind that comes from knowing we've done something to be prepared for an emergency works for us. Let it work for you too!
To see what works for other families, check out
We are THAT Family
. You'll find some great ideas!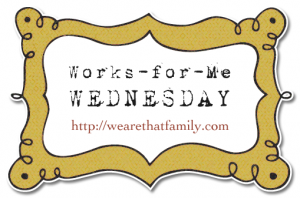 My mom's list:
(Remember that this is years old, but I'm sharing it because it was my catalyst to actually do something. There are a lot of places that you can go to find more current information. See some links at the bottom.)
Food
- 3 day supply of food requiring no refrigeration or cooking, such as -
canned tuna or pork and beans (1/2 pound per person)
nonfat dry milk powder (1/2 pound per person)
graham crackers (1 pound per person)
dried apricots (1 pound per person)
canned orange or tomato juice (46 ounces per person)
peanut butter (1/2 pound per person)
Water
- 1 gallon per person
Bedding
- blanket, cloth sheet, plastic sheet
Clothing
- one change for each person
Personal Supplies and Medication
- toiletries, first aid supplies, cleaning supplies
Fuel and Light
- matches, candles, flashlights, signal flare
Equipment
- can opener, dishpan, dishes, utensils, ax, shovel, bucket, battery powered radio, paper, pencil
Infant Needs
- diapers, etc. if applicable
Personal Documents
- scriptures, genealogy records, legal documents (will, insurance policies, birth certificates, deeds, passports, etc.)
Money
- cash
State of Utah's list
another list
72 hour kits at about.com
72 hour kits in a can
ideas from Provident Living
"prepare before the storm"
- lots of links here too!